Amazon Connect is an easy-to-use omnichannel cloud contact center that helps companies continue to provide customer service at a lower cost, even remotely.
The story began 10 years ago, when the Amazon retailer needed a contact center (call center) that wanted to offer its customers a personal and natural experience when talking to one of the representatives of the sales or customer support team, even if it is by phone or chat.
Because they failed to find such a system, they designed it and made it available to all companies, regardless of their size, who want to offer a different experience to their customers.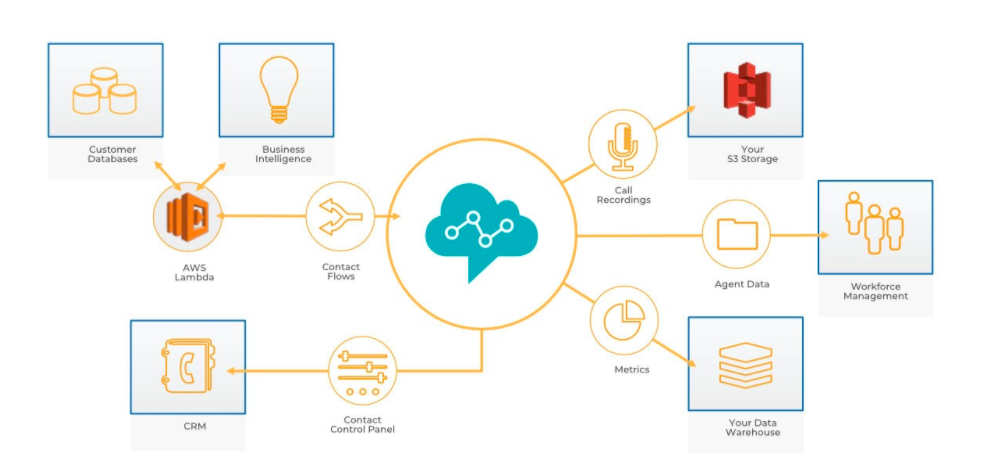 Designed to be an omnichannel contact center, Amazon Connect provides a seamless voice and chat experience for your customers and agents. It includes a set of skills-based routing tools, real-time analysis and intuitive management tools, all at a pay-as-you-go price. Amazon Connect simplifies contact center operations, improves the efficiency of call center operators and agents, and reduces costs. The contact center can be set up in just a few minutes to support millions of customers.
Amazon Connect is a complete platform for sales management, customer service and support, all connected to help organizations run efficiently.
What does Amazon Connect offer?
Support for remote activity
Open system, connection to any device, from anywhere via a browser
API integration with SocrateCRM, SalesForce or any other CRM system
Flexibility - robots and AI elements can be added for automation
Easy and quick re / configuration
Improve the efficiency of the agents
Competency-based request routing
Intuitive and real-time analysis
What is different about Amazon Connect?
Make the necessary changes in just a few minutes
Amazon Connect is simple to set up and use. With just a few clicks, you can set up an omnichannel call center, and agents can start communicating with customers. Through an extremely intuitive user interface, you can make all the necessary changes in just a few clicks and create both voice and chat contact flows, without the need for further development, which is time and money consuming.
Costs up to 30% lower than traditional call center systems
Amazon Connect costs less than traditional call center systems. With Amazon Connect you only pay for the time spent interacting with customers, plus the associated telephone and messaging fees. There are no minimum monthly fees, long-term commitments or prepaid license fees.
Increased agility
With Amazon Connect you can scale the contact center (up or down), depending on the number of requests from customers. It is ideal for those who organize seasonal campaigns or for those who want to adapt quickly to unplanned events.
Amazon Connect is a flexible platform that adapts to any type of business or request, from automating calls to notifying customers about important information.
Are you ready for a demo? Our specialists are at your disposal!