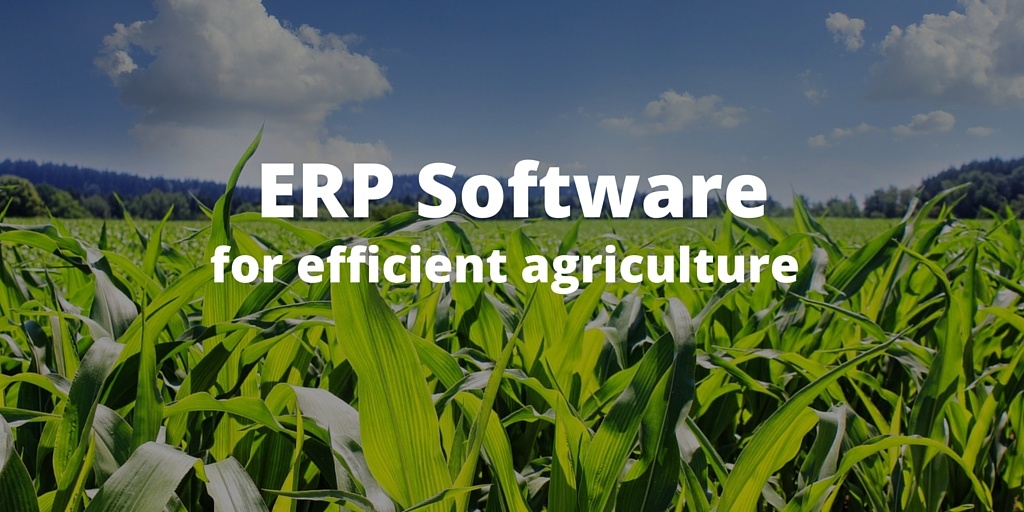 Agriculture is an important sector of any economy. According to the UN statistics, by 2050 few countries will have enough plough land to support the needs of a growing population. The same statistics show that by 2050 the population will reach 9 billion people. This growth can only be supported by an increase in agricultural production.
To increase efficiency , companies need to implement an ERP software for agriculture to help them optimize activities by automating and simplifying critical processes, tracing production to determine profitability per type of crop and streamlining costs.
Crop planning and tracking, harvesting and distribution of products, setting up and monitoring contracts with farmers are just some of the activities agriculture companies. The ERP software helps improve operational efficiency and resource optimization, by enabling tracking crop production and the profitability. The ERP system also allows managing closed contracts and helps define the trade policy.
Whether we speak of companies producing and distributing crop seeds, wine production companies or distributors of plant protection, ERP software has benefits in tracking inventory, deliveries and sales, managing to provide an overall status of the company. With the help of ERP system you can perform project management in an efficient manner. Such a solution allows the allocation of cost centers, distribution centers, indirect and direct costs and the the comparative analysis of budgeted versus actual costs.
Many of the business solutions implementation projects (ERP , CRM and BI) BITSoftware had were for major players in agriculture and food sector, such as Alcedo , Jidvei, Tohani SA , Caussade Semences Est Europe, Hortifruct, Avincis , Berser, Leoser, Ostrovit, Leader International, Viticola Corcova or Domeniile Ostrov.
Domeniile Viticole Tohani rely on information provided by Socrate to establish their sales strategy. About 5-6000 liters of wine are leaving each our the Tohani production line, meaning about 3500 hectoliters per year. This translates into nearly 20.000 invoices, customer orders, notices and other payment documents to be inserted into the system. With the help of the ERP system provided by BITSoftware, Domeniile Viticole Tohani can now control their entire activity of wine production and distribution.
Caussade Semences Est Europa is one of the biggest companies operating on the Romanian market, which creates and distributes genetics for large-scale growing and forage species, to control its costs and support its regional growth with SocrateCloud ERP&CRM. The implementation of an ERP software had a significant contribution in improving cash flow, through better control of credits, open items and crops. Because of the business particularities, the Project Management functionalities were adapted to allow production traceability and calculate profitability per types of crops.
Jidvei SA is one of the leading wine producers in Romania, with over 2,600 hectares of vineyards and an annual production of over 1 million bottles of wine. Approximately 10% of total production goes to export markets such as China, Poland, Sweden, Germany, Spain, Italy and the United States. One of the main benefits experienced after implementing SocrateCloud ERP was a optimizing the information flow between departments, which further led to a proactive response from the company to change the work environment, with positive effects in relation to its partners. The implementation of BITSoftware's solution had a significant contribution in the planning and production control, monitoring cash flow and financial indicators.
Market leader in distribution of plant protection products, Alcedo considered necessary to implement a flexible ERP for agriculture enabling the company to continue its rapid growth. Using BITSoftware's ERP solution allowed Alcedo to obtain a 30-40% increase of the annual organic turnover. The management can now obtain the necessary information to calculate supplier or product profitability using the reports provided by Socrate ERP.
BITSoftware has implemented around 30 projects in agriculture (including providers of agricultural inputs). The projects implemented have proved the efficiency of these tools in managing economic and agricultural firms and have raised the idea of expanding their usage in the production area, with features that help producers in production planning and tracking.
If you want to read more information about our intelligent agriculture projects, you can access the case studies.