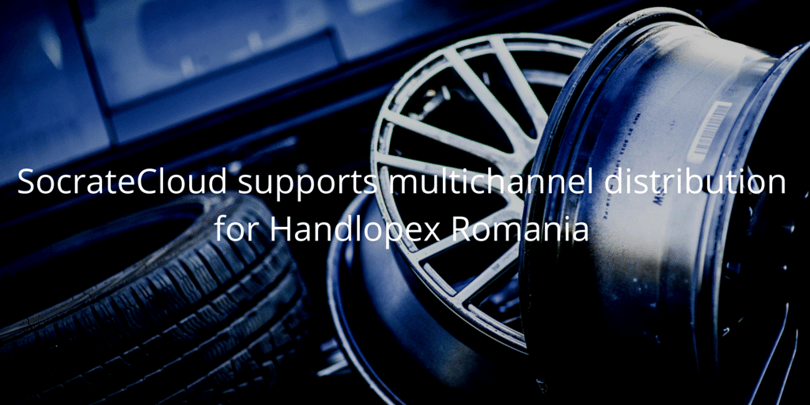 SocrateCloud ERP and SocrateBI support Handlopex Romania in developing a multichannel distribution network of tyres and rims. In its first year of operation, Handlopex Romania generated a turnover of 1.5 million Euro and was positioned as a reliable supplier on the Romanian market.

Handlopex, a European leader in the distribution of tires, with a turnover exceeding EUR 170 million and sales of over 3 million tyres annually at group level, chose SocrateCloud, complete solution for distribution, to manage the entire activity of the new Romanian branch, which generated a turnover that exceeded 1.5 million in the first year of operation and has positioned itself as a reliable distributor on the Romanian market.
Handlopex chose SocrateCloud ERP to support its multichannel distribution network and to provide a competitive advantage on a new market.

"SocrateCloud was a perfect match to our requirements and now, in retrospect, we realize that we made the best choice, because we have not encountered any problem with the software or the implementation team," says Tiberiu Anghel, General Manager at Handlopex Romania.

SocrateCloud is a multi-language ERP solution, available in the cloud. Sales agents can access it directly from the field and it was easily integrated with the online B2B platform whereby customers introduce and track status of orders, with real time access to stocks in Romania and Poland.
SocrateCloud also manages the 2,000 sqm warehouse. One of the processes that have been optimized with the implementation of the SocrateCloud solution was stock records by the date of manufacture (DOT), according to European requirements.

BITSoftware's ERP solution easily creates pricing strategies and sales promotions and monitors all distribution channels. It also monitors the activity of each sales agent individually and sets sales targets.

SocrateBI, the analysis and reporting solution, provides an overview of key business indicators. Handlopex uses the modules dedicated to distribution companies to monitor sales, deliveries, inventories, expenses or customers.
BIT Software has dozens of implementations in the distribution industry, and companies that have contracted us successfully use SocrateCloud, the complete solution for distribution, to manage their entire business, reducing operating costs and optimizing all processes.
Do you want to read the case study in full? Please access this link.