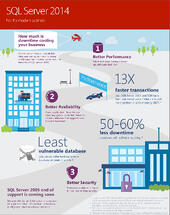 Socrate + ERP and Socrate Payroll are now compatible with the latest database technology Microsoft SQL Server 2014.
SQL Server 2014 offers an essential performance, due to the in-memory built-in, faster insights from any data and platform for hybrid cloud.
Accelerate your business with performant applications
As your company grows, so does the volume of data to be managed and your expectations from the database that contribute to the availability of applications that keep your company running. Whether we talk about stock inventory, sales transactions or customer management, a slow-performing or unavailable database can create bottlenecks or prevent employees to fulfill their tasks, which may force your customers to turn to other companies.
Accelerate Socrate+ and reduce application downtime with the most popular database worldwide.

Benefit from faster transactions using existing hardware. With the new in-memory technology built-in to SQL Server 2014, your company can make transactions 10 times faster on the same hardware.
Avoid downtime for applications and your business. SQL Server 2014 also includes built-in capabilities that help ensure your database is always up and running.

Choose the most popular database in the world. With millions of installments, the SQL Server 2014 has the is the most widely used business capabilities worldwide.
MISSION CRITICAL PERFORMANCE
FASTER INSIGHTS FROM ANY DATA
PLATFORM FOR HYBRID CLOUD
In-Memory Built-in

Up to 30x faster transactions with In-Memory OLTP

Over 100x query performance gains with In-Memory.

Enhanced Security and Scalability

Least vulnerable 5 years in a row

Trust the database ranked "least vulnerable" 5 years in a row! Scalable across compute, networking and storage.

High availability

The 9's you need

Get greater high availability with Always-On, now with even better availability and simplified management.

Easy Access to Data, Big & Small

Insights from any data

Search, access and shape internal and external data, and combine with unstructured data to broaden insights.

Powerful insights with Familiar Tools

Enhanced self-service BI

Speed up analysis and time to insight with the familiarity of Excel in Office and Power BI in Office 365 as well as access via mobile devices.

Complete BI Solution

From data management to BI and Analytics

Scale your BI models, enrich and help secure your data and ensure quality and accuracy with a complete BI solution.

Hybrid Cloud Scenarios

The best of on-premises and cloud

Enable new hybrid scenarios like cloud backup and cloud disaster recovery to reduce costs and improve on-premises business continuity.

Easy On-Ramp to Cloud

Fast time to benefit

Easily and quickly migrate and run SQL Server on Microsoft Azure to get to the benefits of cloud computing faster.

Complete & Consistent

Comprehensive data platform

Deploy a complete and consistent data platform that spans on-premises and cloud using a common set of tools across the entire application lifecycle.
For more information about Microsoft SQL Server 2014, please contact us at sales@bitsoftware.ro.
BITSoftware is a certified Microsoft partner.